This program will be held online via Zoom. All registrants will receive the link to join the program in their Order Confirmation email. Times are ET.
---
Join Sharon Salzberg and Narayan Helen Liebenson — longtime friends and colleagues — for a lively exploration of their lives in the Dharma and a celebration of the power and delight of spiritual friendship.
In a free-flowing conversation, Sharon and Narayan will discuss what the teachings have meant to each of them over the decades and what might lie ahead. They will honor and celebrate the CIMC's focus on "Dharma in daily life", the recognition that meditation and the teachings of the Buddha truly come alive amid our busy, everyday lives. And as they reflect on the values of spiritual friendship and talk about their decades as Dharma practitioners and teachers, they will share ways they have found to balance resting and engaging with the world.
This program is a special benefit to support the Cambridge Insight Meditation Center and to inspire gifts to CIMC's 2023 Annual Appeal. Sharon has been a CIMC benefactor since the Center was founded almost 40 years ago, and she is generously donating her time to support the CIMC once again. Please join her by making a gift to the Annual Appeal.
This program is appropriate for both new and experienced meditators. Everyone is welcome.  Our time together will also include silent practice, and questions.
For questions, please contact office@cambridgeinsight.org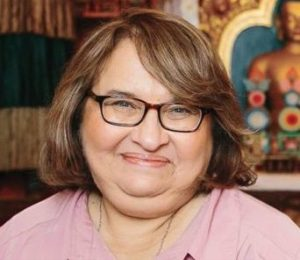 Sharon Salzberg is a co-founder of the Insight Meditation Society and of the Barre Center for Buddhist Studies. She has practiced Buddhist meditation since 1970 and has been teaching worldwide since 1974. She is a guiding teacher at the Insight Meditation Society and is a prolific author. Her books include Real Life: The Journey from Isolation to Openness and Freedom, Lovingkindness, the NY Times best seller Real Happiness, Real Love: The Art of Mindful Connection, and Real Change: Mindfulness To Heal Ourselves and the World.
Narayan Helen Liebenson is a Guiding Teacher at CIMC, where she has been teaching since it opened in 1985, as well as an Emeritus Guiding Teacher at the Insight Meditation Society. Her training includes over 35 years in the Theravāda tradition as well as ten years in the Chan tradition with the late Master Sheng-yen. She is the author of Life as Meditation and The Magnanimous Heart: Compassion and Love, Loss and Grief, Joy and Liberation.

(Closed Captions (CC) for CIMC Programs are generated through "livestreaming" via Rev.com. CIMC programs are not livestreamed to any other platform for any other use.)